This Week @ the Library
April Exhibits
Program Room - Art Quilts by Diane Francini, Judy Prohaska,
Robin Schofield & Phyllis Small
East Gallery - Photographs by members of the Simsbury
Camera Club
West Gallery - Ethel Walker Student Artists, grade 9-12
Display Case - Wood Turnings by Alan C. Bugbee
---
Simsbury Public Library and Antonio's Restaurant
Celebrate National Library Week
April 12-18th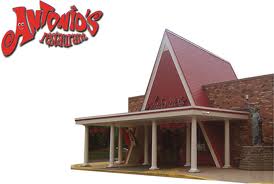 Dine at Antonio's Restaurant any time during
National Library Week (April 12-18)
Show your server your Simsbury Public Library card when you place your order and receive a free soda, iced tea, hot tea or coffee.*
* One free drink per person, per visit.
---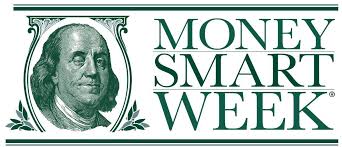 Join us for a week of money smart programs for all ages.
Shred Event - Saturday, April 18, 9-1 pm, Town Hall Lot

Life size game of LIFE for Teens - Sunday, April 19, 2-4 pm, Library Program Room

Dine & Discover: Protect Yourself from Financial Crimes and Identity Theft, Monday, April 20, 5-6:30 pm, Eno Memorial Hall

Raising Financially Responsible Children, Wednesday, April 22, 6:30-7:30 pm, Library Program Room

"Making Cents": a puppet show, Saturday, April 25, 3-4 pm, Library Program Room
---

Saturday, April 25th from 10-4 pm.
Click here for a complete listing of Librarywide events.
---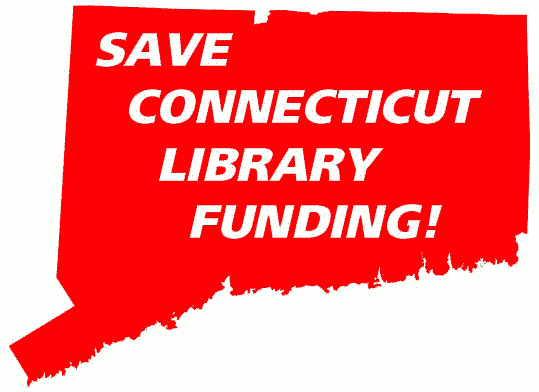 Valuable Library Services are threatened with elimination
if the proposed state budget passes
· Only your hometown library will honor your card -
You'll no longer be able to use your library card to borrow materials at any other CT public library
· Libraries will lose thousands of dollars in cooperative savings - fewer materials for borrowing
Speak out! For more information and to email your
state representative go to:
www.ctlibraryassociation.org
Restore funding to Connecticard, Connecticut Library Consortium Cooperating Library Service Units & Grants to Public Libraries
View a video about how funding effects you here.
---
Friends Coffeehouse: The Take Two Jazz Duo: A Musical Tribute to Peggy Lee and Cole Porter
Friday April 17, 2015
8:00 to 9:30 pm, Program Room
New Britain-born jazz pianist John Brighenti accompanies vocalist Erin O'Luanaigh for a enchanting tribute to Peggy Lee and Cole Porter. Doors open at 7:30. Free and open to all. Please preregister, including your email address if you have one, even if it is already in the system.
---
Great Decisions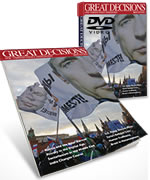 Monday, April 20
, Program Room
Join us for an evening of lively discussion on Foreign Policy held on Monday evenings. If you are interested contact Charles Dahlberg or call 860-658-2577 to register.
---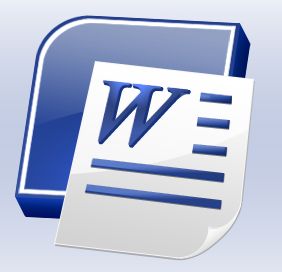 Introduction to Microsoft Word 2007
Tuesday, April 21
10 am-Noon, Technology Learning Center
Learn valuable word processing skills in this six session course. Signing up for session one registers you for the whole course. At the start of the first class, all attendees will be given a coursebook to keep.
Session 6: Thursday, April 23, 2015, 10 am - Noon
---
Turn Off Your Computer and Get a Job!
Tuesday, April 21
, Program Room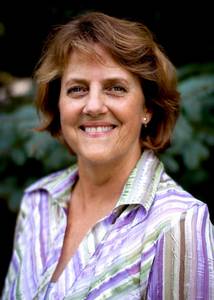 In this interactive talk you'll explore what's wrong with searching on the internet, how and when jobs are found, why you should diversify your search, and an effective strategy for getting to hiring managers.
Jean Baur, The Back to Work! Coach, is a career coach, author and speaker. For more information on Jean or email her at JeanBaur.yahoo.com.
---
Introduction to Microsoft Word 2007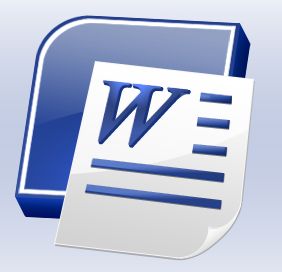 Thursday, April 23
10 am-Noon, Technology Learning Center
Learn valuable word processing skills in this six session course. Signing up for session one registers you for the whole course. At the start of the first class, all attendees will be given a coursebook to keep.
---
Night of a 1,000 Stars


Thursday, April 23 @
Join us for Night of 1,000 Stars-- a great community event!
Each of our "stars" (a local Simsbury celebrity) will read a passage from a favorite work. "Past stars have read from fiction, poetry, plays, speeches, biographies and children's books - anything that moved them to laughter, tears, or motivated them to share", says event chair Nancy Bugbee
This year's event will be hosted by Chris Kelly, a Simsbury star himself. The roster includes Terry Deitz from the TV show Survivor, educator Doug Cramphin, police sergeant John Durkin, nurse Allison Heermance, middle schooler Bronwyn Mogck, jeweler Bill Selig, restaurateur Doug Spencer, Jack Voorvart, the library's new teen librarian Sara Ray, and reference librarian Joan Nagy. The "What's on Tap?" quartet will perform a few songs to kick off the event. Desserts and coffee will be provided.
The program is free of charge, but seating is limited. Click here to reserve your seat(s), stop by at the Library Reference Desk, or call (860) 658-7663. Drop-ins are welcome, space permitting.
---
Friday Flicks: Safety Last! (1923)
Friday, April 24
, Program Room
When a store clerk organizes a publicity stunt in which a friend climbs the outside of a tall building, circumstances force him to make the perilous climb himself. Starring Harold Lloyd, Mildred Davis, Bill Strother. 73 minutes, b & w.

Upcoming Movies:
May brings classical movie musicals.
May 1 - Orchestra Wives
May 8 - The Pajama Game
May 15 - The Producers
May 22 - Mame
May 29 - The Music Man
---
Nerdfest Friday & Fandom Social for Teens


Friday, April 24
, Program Room
Come discuss your fandoms and learn about new ones! This month's theme is Ninja Turtles. Pizza will be served! Drop-in.
---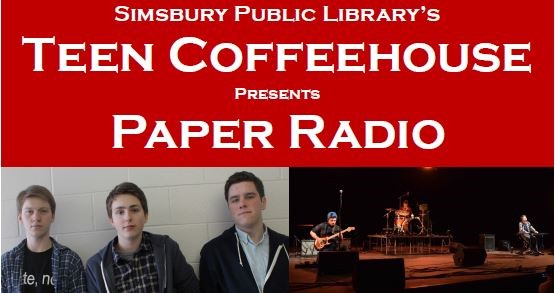 Friday, April 24
, Program Room
Simsbury High School Battle of the Bands winner, Paper Radio pursues a sound that is both eclectic and original. Comprised of Andre Bernier (Keys and Vocals), Tom Polizzi (Guitar), and Jacob Patrone (Drums), the band met while attending the Greater Hartford Academy of the Arts. Paper Radio creates music that is fun and free, and encourages people to dance!
---
Booked for Lunch with Richard Russo
Wednesday, May 6th
Noon-2:00 pm
Hop Meadow Country Club
This year's popular event features Pulitzer Prize winning author Richard Russo, a delicious lunch, in the gorgeous spring setting of Hop Meadow Country Club.
Russo's many novels include best-sellers Empire Falls (a Pulitzer Prize Fictionwinner in 2002), Nobody's Fool, Straight Man and Bridge of Sighs . His memoir, Elsewhere, was an NPR Best Book pf 2012. In addition, he has written screenplays for Twilight, Empire Falls , Nobody's Fool, Ice Harvest andKeeping Mum.
The cost is $32 per person. Please PRINT the reservation form & return it with your lunch choice and check by April 27, 2015 . Questions? Call the Library at 860-658-7663.
---
Friends Spring Bus Trip to the Berkshires
Thursday May 14, 2015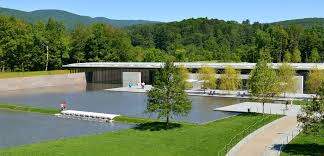 The Friends of the Simsbury Public Library will host a spring bus trip to the beautiful Berkshire countryside in the northwest corner of Massachusetts . Our day will include tours of two outstanding art museums with a luncheon in between.
We begin our day with a visit and docent-led tour of The Clark Art Institute. The Institute itself is best known for its French Impressionist paintings by Renoir, Monet and Degas. The collection is also rich in American paintings by Homer, Sargent and others. While we are at the Institute, we will also visit its Clark Center, designed by renowned architect Tadao Ando.
After our Clark tour, we will have lunch at the nearby Gala Steakhouse & Bistro in Williamstown. There will be a choice of entrees, dessert and beverages. A cash bar will be available.
Next we take a quick ride to Massachusetts Museum of Contemporary Art. MASS MoCA is the largest and one of the liveliest centers for contemporary visual and performing arts in the country.
The bus departs at from the Stop and Shop parking lot adjacent to Bushy Hill Rd. and returns by approximately The price for the trip is $85 per person (includes bus, snacks and beverages en route, museum admissions & tours, and lunch).
PLEASE JOIN US ON MAY 14TH! Get your reservation in early, as most of our trips sell out! The reservation deadline is May 2, 2015 . Please make your reservation. Once you send your check, assume that you're included on the trip unless you hear from us otherwise. Checks are not cashed until the event takes place.
---
2015 USED BOOK COLLECTIONS
COMING SOON!
May 26 through August 29

You can organize, downsize and help the Friends at the same time! Books, DVDs, games and other materials in good shape will be collected all summer for the Friends' Annual Used Book Sale. Watch this web site for details…
SAVE THE DATES for our Giant Used Book Sale :
Saturday, September 12 and Sunday September 13, 2014
---
Language Classes

French Conversation


Monday, April 20


, Fireside - Upper Level

Chinese for Travelers


Thursday, April 23


Spanish Conversation Class


Wednesday, April 22


10:30-11:30 am , Wagner Room

English Conversation Group


Tuesday, April 21


10:30 - 11:30 am , Barnes Room

English Conversation Club


Friday, April 24




10:30-1:00 pm , Program Room 2